Mitra Taheri is a core faculty member of the Ralph O'Connor Sustainable Energy Institute, a professor in the Department of Materials Science and Engineering, director of the Materials Characterization and Processing facility, and a member of the Hopkins Extreme Materials Institute (HEMI).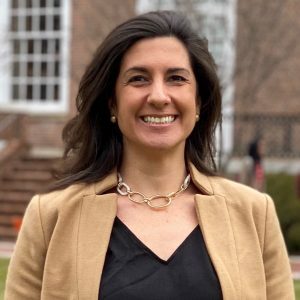 Her research focuses mainly on electron microscopy and specifically in-situ microscopy. Taheri's team designs and builds platforms to study materials in different, often extreme, environments including high temperatures, stress, radiation, oxidation, and more. Her team also develops new ways of detecting what is being seen through the microscope faster and in more efficient ways through integrating artificial intelligence. Taheri hopes this integration will improve not only researchers' understanding of materials processes, but how new materials can be built for the next generation of applications.
Taheri also splits her time with the Pacific Northwest National Laboratory (PNNL), where she serves as a Chief Materials Scientist in the Physical and Computational Sciences Directorate. She first became involved with PNNL in 2011, and is the co-lead of the Adaptive Tunability for Synthesis and Control via Autonomous Learning on Edge (AT SCALE) Initiative.
Taheri organized and led PNNL's inaugural Next-Generation Transmission Electron Microscopy (NexTEM) workshop. The event brought together international experts in high-resolution imaging, spectroscopy, and data analytics to identify new frontiers in electron microscopy—specialized techniques used to survey materials at an atomic level.
In the race for even better prediction and precision, Taheri believes these new frontiers depend on infusing cutting-edge instrumentation with machine learning.
"We're building the first-ever global center to integrate computation into intelligent microscopy," said Taheri. "PNNL laid the foundation for this and will be a key collaborator."
Taheri likes that her joint appointment keeps her—and her students—connected to PNNL's nuclear research while the two institutions also scope out ways to enhance electron microscopy instrumentation with more automation and high throughput.
"We're already making new materials faster and in ways we never have before," said Taheri. "We've removed the switchboard and are starting to make materials on the fly."
Taheri uses biology as a top-of-mind example.
"Remember that movie Outbreak, and how they isolated the airborne virus and used TEM [transmission electron microscopy] to analyze it? That used to be science fiction; we're now able to do that," said Taheri.  "By figuring out how to modify the surfaces of viruses, we can use that information to more efficiently create new vaccines to save lives."